If you don't have time to meditate how are you supposed to become more consciously aware?
(And how do you learn techniques that actually work in your busy everyday life when you need them to?)
---
For most people, developing inner awareness takes years of disciplined effort and unpredictable results.
Even when you learn from a highly skilled teacher who uses a well organized system, it still takes time to get it right, because most teachers can only teach you what to do. They can't get inside your mind and body to show you how it actually feels when you do it correctly.
So they tell you to sit…and sit…and sit until you eventually gain enough direct experience to know what works and what doesn't.
There are many benefits to be gained from long-term practice. But, rather than practicing trial and error, wouldn't you rather practice actually being in the states of awareness you want?
You can if you're introduced to the states you seek from the beginning.
Presenting…

An intensive weekend workshop designed to provide you direct experience with different states of consciousness and the tools for quickly accessing them in your daily life. Next workshop: April 24-25, 2010 in Boulder, CO.

Here's How the Course Works
This two-day workshop guides you through a carefully sequenced series of exercises to teach you how to comfortably shift and expand your awareness along a continuum of consciousness that is usually only accessible after years of training and practice.
You'll use the Monroe Institute's Hemi-Sync® system to learn how to rapidly achieve, hold, and control different states of awareness so you can access your untapped inner resources and apply them to a variety of areas in your life.
On the first day of the workshop, you learn to put your body to sleep while your mind remains awake. You'll then learn to switch easily between an inner relaxed calm and normal waking awareness. This state is called Focus 10, and it serves as the foundation for exploring nonphysical energy systems and a great many other states of consciousness.
On the second day of the workshop you send your awareness beyond the physical world and establish a connection with your own inner wisdom so that you can ask questions and receive answers from a deeper Source of "knowingness" that exists beyond your waking mind. You'll also have the opportunity to experience your superconscious in an exercise designed to connect you with your Higher Self.
Over both days you'll learn 15 different tools and techniques to help you explore and experience these states, including:
A simple way to tune into the natural flow of energy around you
How to deal with distracting thoughts and emotions
A powerful affirmation that has helped tens of thousands of people to expand their awareness
3 memory devices to help you shift levels of awareness with a single thought
How to directly experience and use your personal energy field
An age-old method for quickly charging your energy field
6 ways to ground your energy
What it feels like for your body to be asleep while your mind remains completely awake and alert
A way to access guidance and solve problems with a single breath
How to release your fears and reclaim the personal strengths your fears were blocking
3 breathing techniques for creating and maintaining healthy balanced states in everyday life
You'll also have a chance to practice, journal, reflect, and share your experiences with others in the group so that you can offer your insights and learn from their experiences in turn.
A Typical Exercise Sequence
Over the course of the workshop, you'll participate in 10 distinct exercises designed to take you into different states of awareness where you'll engage in activities ranging from breathing techniques and guided visualizations to problem solving to free time for personal exploration. A typical exercise works like this:
| | |
| --- | --- |
| | |
| 1. First we discuss the exercise so you understand its purpose, what to expect, and how to do it. | 2. Next you enjoy the exercise as the Hemi-Sync system guides you through the experience. |
| | |
| 3. After each exercise there is time to journal and discuss what you've learned to help you process the exercise and add it to your toolbox. | 4. You'll also have a chance to visit with your classmates during break time so you can make friends and share at a deeper level.. |
The results of these exercises and tools are highly personal and varied. Typically though you can expect to experience:
States of greatly expanded awareness
Insights regarding issues in your life
Better understanding of your own energy
Improved access to inner guidance
Greater knowing of your Higher Self
The overall goal of the workshop is to help you recognize these new experiences of consciousness and learn to re-access them without the support of the Hemi-Sync exercises.

I could have found excuses but I've started listening to my inner self…

"I could have found excuses about money, the 2 day commitment and that I didn't have the time. But truth is I have started listening to myself and following what my inner self tells me. After participating in the workshop I have a better understanding of the consciousness levels that I have been experiencing in my meditation as well as about energy and how it relates to me and the surrounding environment, no matter which one that might be, physical or non-physical. We may appear different in the physical world, but we have commonness in the non-physical world. This makes understanding the possibilities of a collective consciousness more real. This was just a "taste" and I am hungry for more. The experience was truly one to be remembered, thank you!"
—Chet Buhrmann, Lyons, CO, USA
How Hemi-Sync Works
Created in the 1960s by Robert A. Monroe, a pioneering consciousness researcher and inventor, Hemi-Sync® is scientifically and clinically proven, patented, audio technology that works by sending a complex blend of different sounds (tones) to each ear via stereo headphones.
The two sides of your brain then work together to "hear" a third signal called a binaural beat that is the difference between the two tones. This is not actually a sound, but rather an electrical signal that can only be perceived within your brain when both sides of your brain are working together. The result is a focused, whole-brain state called hemispheric synchronization or "Hemi-Sync."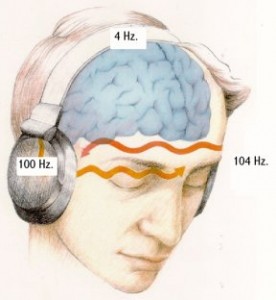 When you listen to stereo headphones and a sound of 100 Hertz is played in one ear while a sound of 104 Hertz is played in the other ear, your brain "hears" the difference between the two sounds. In this example, 4 Hertz.
When you listen to binaural beats for a length of time your brain waves begin to synchronize according to the frequency of the binaural beat. This is why different combinations of Hemi-Sync signals can help you achieve different states of consciousness.

These maps of brain wave activity show how listening to Hemi-Sync can shift your normal random brain activity (left image) to a more focused and organized pattern (right image) enabling you to use more of your brain in an effective way.
Depending on the intended goals, Hemi-Sync products combine music, verbal guidance or subtle sound effects with Hemi-Sync to strengthen its effectiveness. Although Hemi-Sync® recordings use a mix of sound frequencies, learning products use predominantly Beta frequencies (14 -27 Hertz) to help you focus with laser-like attention, sleep products use primarily Delta frequencies (0.5 – 4 Hertz) to help you relax and sleep; and so forth.
After more than 40 years of research and clinical-testing Hemi-Sync has been proven to be safe and effective in a wide variety of applications. While the list of things you can use it for is too long to include here, I've personally used Hemi-Sync for the objectives listed below and found it to be wonderfully effective.
Stress reduction and relaxation
Sustained focused attention
Enhanced creativity and visualization
Creative problem solving
Emotional healing and releasing fears
Perceiving higher energy systems
Improved access to inner guidance
Experiencing your Higher Self
To learn more about the effectiveness of Hemi-Sync or about the Monroe Institute you can follow these links.
Quick Course Details
Who: You, if you want to access your untapped inner resources and gain a better knowing of your Higher Self.
What: An intensive weekend workshop designed to provide you direct experience with different states of consciousness and the tools for quickly accessing them in your daily life.
Where: 4501 Mulberry Court, Boulder, CO 80301 For Google Map directions, follow this link
When: Saturday and Sunday, April 24-25, 2010, from 8:30 am to 6 pm.
How: Click the sign up button below or call 303-539-9310.
Can't come to Boulder? Contact me about arranging a workshop near you.

Frequently Asked Questions
Why you as a facilitator?
In addition to the spiritual skills described elsewhere on the website, I have used Hemi-Sync since 2000 and I can't speak highly enough about how it has sped up my spiritual growth. I have attended three residential training programs at the Monroe Institute's Faber, Virginia campus, as well as graduating from its Outreach Facilitator certification program, making me one of small group of people authorized to facilitate TMI programs.
What should I bring?
We'll be spending a considerable amount of time reclining so I encourage you to bring a camping pad or exercise mat to lie on, as well as a blanket and a pillow or two to ensure that you are comfortable. You may also want something to cover your eyes such as a sleeping mask (available at many travel supply stores) or a dark wash cloth or hand towel.
If you enjoy journaling you may want to bring a notepad, pens, and colored pencils to record your experiences.
The most important thing to bring is an open mind that is ready for new experiences and without preconceived expectations.
What should I wear?
The dress code for the weekend is: Comfort First. We encourage you to wear loose-fitting clothes suitable for extended periods of sitting and lying down.
How do you handle meals?
We ask you to bring a lunch so we can eat together and maintain our group energy. We will provide snacks and beverages throughout the day. We'll also provide a refrigerator and microwave oven for anything that you care to bring.
Are there any medical considerations?
If you are currently taking any medications I suggest that you continue to do so on your regular schedule. While Hemi-Sync has many positive applications as an adjunct to wellness, healing and rehabilitation, it is not intended to replace medical diagnosis or treatment. If you have a tendency towards seizures, auditory disorders, or adverse mental condition(s), do not listen to Hemi-Sync without first consulting your physician.
What does it cost?
The workshop tuition is $250, but if you pay by April 3 you qualify for a $25 early bird discount. To reserve your place click the Sign Up Now button below and it will take to you bottom of the web page and explain the payment options.
I don't usually spend that much money…
"I don't usually spend that much money at once for something I'm not sure if it will pay off, but making the time to do only the Hemi-Sync/energy work for two days really primes the pump. The workshop made it easy to connect and make progress while at the same time it was fun! For me it was the effort and discipline that I lacked and I ended up feeling motivated to do the exercises at home because it is working for me and I want to keep doing it. I've already recommended it to a friend because it helped me take a big leap forward with little effort and because I thought everything was done very comfortable and professionally."
—Kim Sitton, Fort Collins, CO, USA

Is there a guarantee?
Absolutely! I recommend never buying anything that isn't guaranteed. That's why this workshop is covered by my Self-Powered guarantee. I'm so confident in the materials that I'm willing to take all the risk. That's why this course is 100% guaranteed. You can attend the workshop, and if you're not satisfied when the course is over, you can have your money back. What's more, you can keep your course workbook even if you ask for your money back. There's just one condition.
What's the catch?
It's simple. You have to participate. I'll show you the way, but I won't carry you. You need to walk the path with your own two feet. That means you agree to participate fully in all the activities over the course of the workshop.  When you make that kind of effort, regardless of the results, you demonstrate your determination to achieve your goals under your own self-power.
That's all.
If you can think of a more reasonable guarantee, let me know. I always love to hear from you with your suggestions and feedback. Anytime!
What if I can't attend and need to opt out?
The workshop is designed to be completed as single unit so you'll need to attend both days. If you can't attend, we'll gladly apply your tuition to a subsequent workshop of your choosing, as long as you provide us with 48 hours notice of your cancellation.
How to Register Right Away
To reserve your spot just click the Sign Up button below (it takes you down the page so you can see tuition pricing) and when you are ready click the Pay Now button to pay online via credit card or Paypal.
If you are uncomfortable with online transactions you can also email me at matthew @ higherselfguides.com or phone me at 303-539-9310 to make arrangements to pay via check.

Three Reasons Not to Delay
1.    Space is limited because we want to keep class sizes small for personalized attention. We can only accommodate 12 people and several seats are already taken.
2.    Early bird pricing ends April 3. Sign up by then and you qualify for a 10 percent ($25) discount.
3.    It's guaranteed. You can think of this workshop as a guaranteed safe investment in yourself. In fact, the guarantee couldn't be better. You attend both days and participate fully and if you don't get the results you're looking for, you can have your money back!
I actually canceled after signing up…

"I changed my mind after initially signing up because things had been progressing really well in my (virtually) lifelong meditation practice and it just seemed like TMI (or any *other* thing) would just be a step backwards or just in a different direction to no good end. Then I retracted my withdrawal after I came to a different conclusion.
Considering the nature of the workshop/subject, as I see it, this is not like taking some workshop about tiling your bathroom. This speaks to the very nature of our existence or of reality. Therefore, if someone were serious they would make whatever arrangements they had to make it happen. As a result of the workshop I felt like I had blockages removed and I gained new tools in expanding my awareness. In particular I learned some of the messages my mind had been giving me about limitations I had on internal awareness were in fact false.
Thanks again to you and Janet for the hospitality and warmth and welcoming you showed *in addition* to the course itself."
—Christopher Hill, Longmont, CO, USA
Special Bonus!
Participants who successfully complete this weekend course will receive a certificate for a $200 discount toward the Monroe Institute's Gateway Voyage, its introductory six-day residential program. (If you are serious about your personal growth and plan to continue on this path, then this bonus effectively reduces your long-term cost of this workshop to a mere $50.)
In Summary
You'll greatly enhance your level of awareness without all the trial and error when you join us for this intensive weekend workshop designed to provide you direct experience with different states of consciousness and the tools for quickly accessing them in your daily life.
Early Bird
(Before April 3)


Standard
(After April 3)


10 Exercises to Directly Experience How to Shift and Expand Your Awareness

15 Techniques to Apply in Every Day Life

Question and Answer Sessions to Clarify Your Understanding

Practice Sessions to Ensure Your Grasp of the Material

Take Home Participant Manual

Special Bonus!

Early Bird

Standard

TMI Gateway Discount (Worth $200)

Tuition

$225

$250
Note: All payments are in US dollars.
Got a Question or Concern?
If you've got any questions or concerns please let me know. Just send an email to matthew [at] higherselfguides [dot] com and if there's anything I can do I will. There's no reason to let the unknown keep you from your journey of self discovery.
Many blessings,

Matthew Joyce
P.S. Using Hemi-Sync and attending Monroe Institute workshops was hugely instrumental in my personal spiritual development and it greatly sped up my progress. That's why I decided to become a certified trainer of their programs. If you're looking to jump start your own process I encourage you to join us.
Goods and Services provided by:
Higher Self Guides, LLC
P.O. Box 21151, Boulder, CO 80308
303-593-9310
www.higherselfguides.com