Thanks for signing up for our newsletter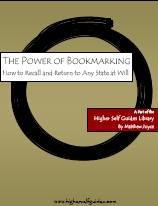 Congratulations on taking an important step along your personal path! When you learn to apply the power of bookmarking to your daily life, relaxation—or any feeling you desire—will be just a breath away.
We suggest you read "The Power of Bookmarking:How to Recall and Return to Any State at Will with Bookmarking" once all the way through. Then set aside some quiet time to try the technique. It's a short read, but it's not something you're likely to master on the first try. Stick with it for a several practice sessions. The more you practice it, the more powerful you'll discover it to be.
Our gift to you can be downloaded by clicking the link below.
Depending on your browser settings, directly clicking this link may open the file in Adobe Acrobat Reader or it may prompt you to save it to your computer.
If you'd like to save it you can right click the link and then
For Internet Explorer — Choose Save Target As…
For Firefox — Choose Save Link As…
If you have any trouble, you can email me at matthew [at] higherselfguides [dot] com and I'll be glad to give you a hand.
While you're at it, consider sending us an email to let us know if you find it helpful. We always enjoy hearing from you, and we'll use your feedback to improve the next version.
Many blessings,
Matthew and Janet