Sign Up for Our Newsletter and Receive Our Gift
To receive The Power of Bookmarking and our twice monthly newsletter please tell us the following
We believe strongly in the value of hospitality. If you were guests in our home, we'd offer you a cup of tea and fresh-baked blueberry muffins. Since this is a website, we obviously can't do that. But if you'll take a moment to fill in the form (above or below), we can offer you a gift that teaches you one of the most fundamental skills for spiritual growth—the power of bookmarking.
Our guidebook The Power of Bookmarking: How to Instantly Recall and Return to Any State of Being teaches you how to memorize and recall any experience, whether that's a feeling of relaxation, a state of sublime meditation, or access to the Akashic Records. Once you learn how, recalling an experience will be as easy as returning to a web page is with a bookmark or favorite.
When you fill in the form (above or below) you'll receive the Bookmarking guidebook and our Higher Self Guides newsletter that features articles such as the Manifestation Game and How to Play It, What to Do When You Feel Like Your Progress Is too Slow, and How to Create Sacred Relationships. We also share with you fascinating conversations with authors, spiritual teachers, and other leading thinkers. Each issue is filled with practical tips and exercises that you can apply today.
Lasting Relationships Are Built on Mutual Value
The strongest and most rewarding relationships in life are those that provide a fair exchange of value. We know how much you value your privacy and your time, so to help you feel more comfortable sharing your name and email address, we want you to know a few things:
We will NEVER sell, rent, or lend your personal information to anyone without your consent.
We will work diligently to protect your privacy.
We will NEVER send you spam.
To read our comprehensive Privacy Policy click here
Your Attention Is Your Greatest Asset
How you choose to direct your attention determines the types of experiences you have in life. When you read our newsletter, you'll discover new ways of viewing your spiritual growth and learn practical techniques to help you to create the experiences you desire. If you decide it's not for you, you can take yourself off the list at any time. Every single newsletter gives you an option to unsubscribe with a single click. That way you're in complete control. So fill out the form (above or below), and we'll send you The Power of Bookmarking, our newsletter, and our heartfelt gratitude.
Thanks for visiting,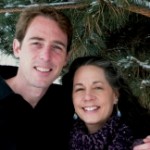 Matthew and Janet, Guides
To receive The Power of Bookmarking and our twice monthly newsletter please tell us the following